H
ospitality at its best!
Besides the very friendly atmosphere all around, our personal attention at all times and the high level of cleanliness, there are many more reasons for you to choose for Central Hotel, namely:
Perfect Location
Excelent View at Sea
Friendly Staff
Free Premium WiFi Connection
Safe in every Room
The Best Coffee in the Region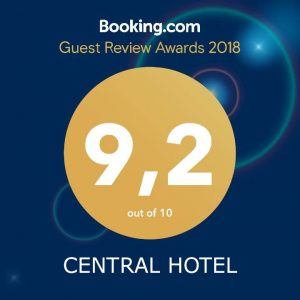 CH
"Life moves pretty fast, if you don't stop to look around once in a while, you could miss it!"
Where Royal has a Meaning
CENTRAL HOTEL
Since 2004, we offer only the best services for our clients. Quality, Hospitality, Comfort are only some goals we have in high standards!

Mail Us
info@central-hotel.gr
Feel free to send us Email for any question you have about organising your holidays to us!

Locate Us
Ag. Nikolaou 2 Str.
Paralia, 601 00, Greece
Central is located at the most public spot of Paralia.

Need Help
+ 30 2351 0 63888
You can also contact us trough Fax : + 30 2351 0 63888